Check out this feature on Melody Fairchild: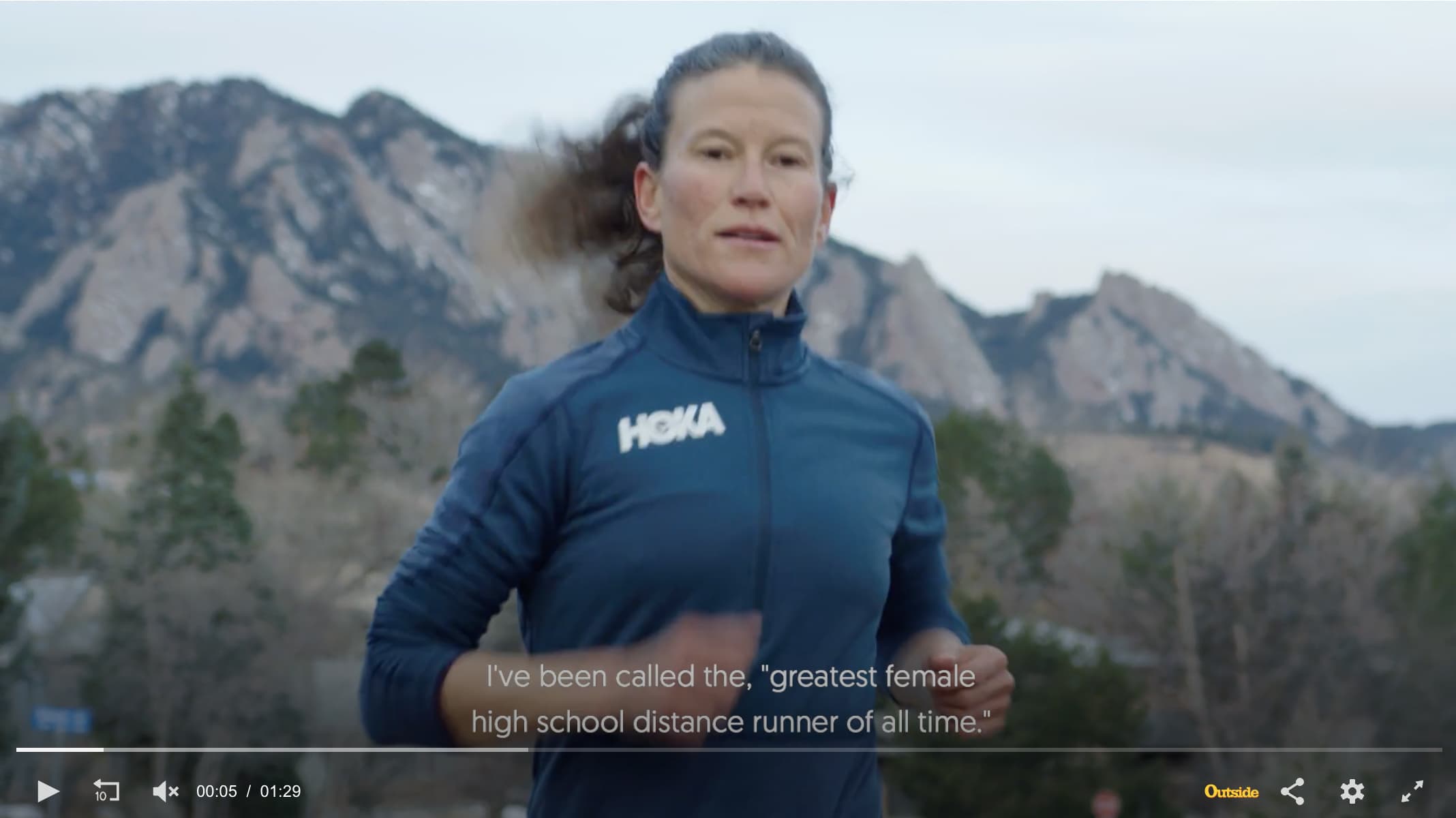 https://www.womensrunning.com/culture/people/melody-fairchild-what-keeps-me-running/
Thirty-nine of the top off-road runners in the United States have been named to the 2022 U.S. Mountain & Trail Running Team scheduled to compete at the inaugural World Mountain & Trail Running Championships November 4-6 in Chiang Mai, Thailand. 
Among them are STEENS MT. RUNNING CAMP'S Asst. Camp Director, Max King, former Steens HS camper, Camp counselor and current Steens clinician, Samantha (Sam) Lewis and former Steens Camper from S. Medford HS, Michael Maiorano.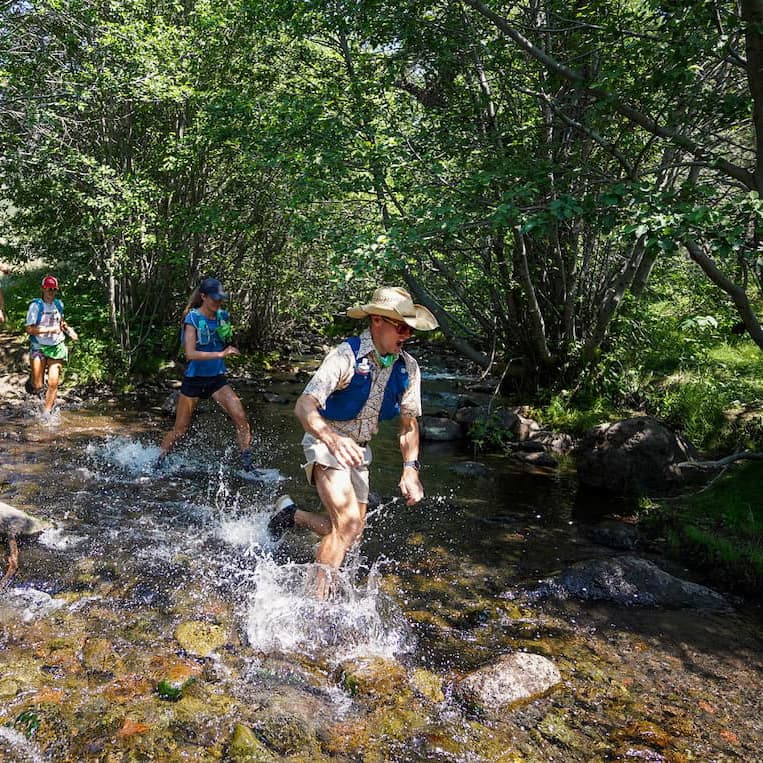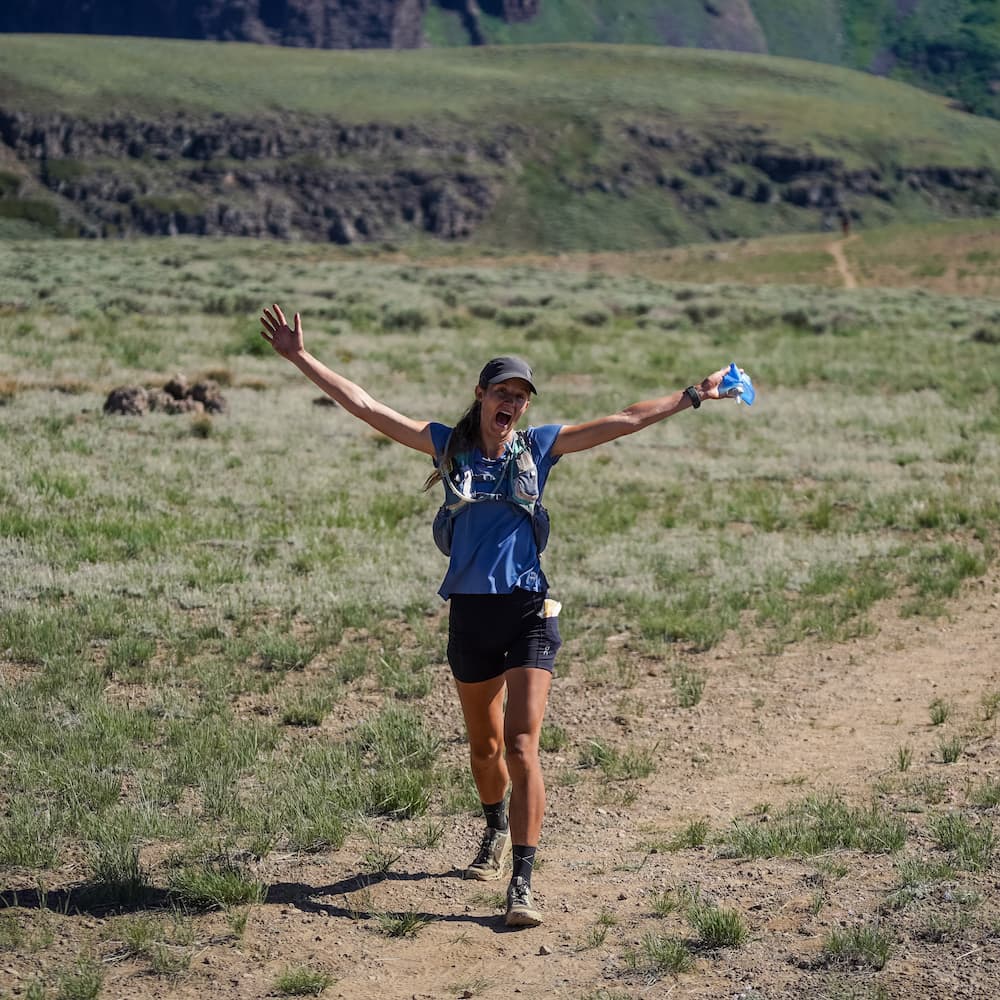 40K Trail Running Team
Saturday, November 5th (7:30 AM) – Among those Racing in the 40 km trail race with 2777 meters of climbing will be:
Max King (Bend, OR) – Perhaps trail running's most versatile athlete, Max is the 2011 World Mountain Running Champion, 2014 IAU 100K World Champion and bronze medalist at the 2016 NACAC Cross Country Championships / Pan American Cross Country Cup. Max punched his ticket to Thailand by winning the 2022 Breakneck Point Trail Marathon. Just over 1 year ago, at age 41, Max finished 2nd at the USATF Mountain Running Championship.
Mountain Running Team
Among those racing Sunday, November 6 (9:45 AM) in the 11.2 km up/down mountain race with 475 meters of climbing will be:
Samantha Lewis (Moscow, ID) – Samantha finished 5th at the 2022 USATF Mountain Running Championships and is the 2019 USATF Half Marathon Trail Champion. She finished 29th at the 2019 World Mountain Running Championships in Argentina and has been a regular top finisher at USATF Mountain Running Championships and sub-ultra-distance USATF Trail Championships.
U20 Mountain Running Team
Sunday, November 6 (8:00 AM) – Among those Racing in the 6.4 km Up/Down U20 Mountain Race with 225 meters of climbing will be:
Michael Maiorano (Medford, OR) – Michael attends Gonzaga University and has a 5K cross country PR of 14:48, has run 4:06 for 1600 meters and is a Stumptown Twilight Elite 3200 Meter race winner in 8:51.3.
---
I guess this means you three are going to miss the OSAA State Cross Country Championships at Lane CC! 😉
Good Luck from all of us at STEENS!
Chris Hollis was a 2 time Steens Camper from Stayton HS  in 1999 and 2000 and was a State HS 3A XC champ in 2000.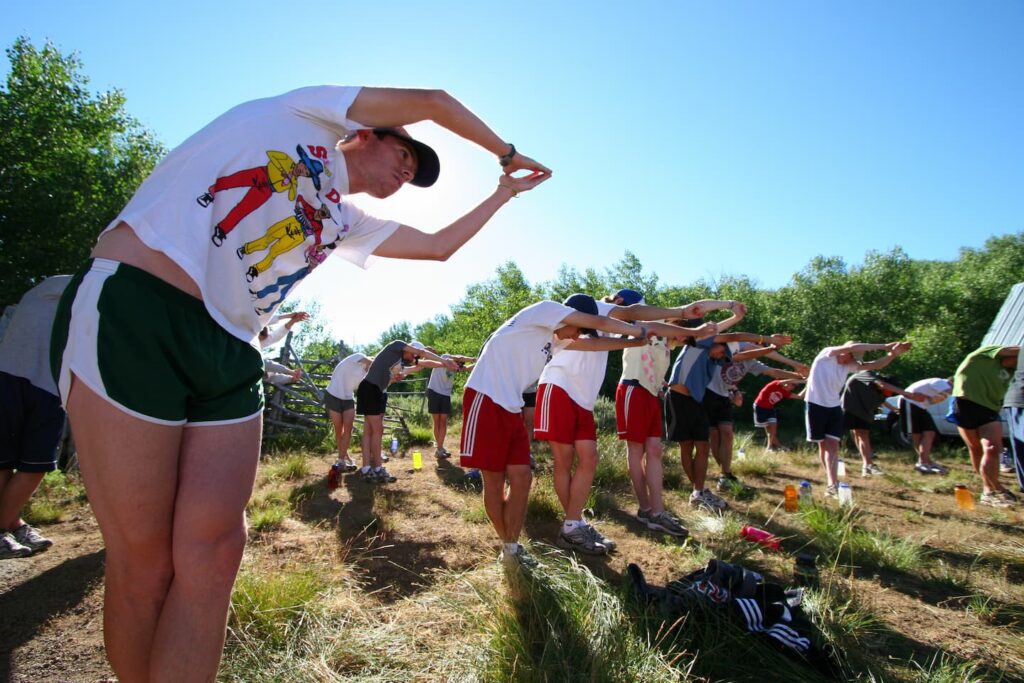 While competing for Portland State Chris was a Steens Camp Tent Assistant for the summers of  2001, 2002, 2003, and 2005. In subsequent summers, he was a Steens Tent Coach
Chris was involved in numerous Steens Camp Setup Crews. He specialized and took great pride in preparing, digging out and constructing the Turkey BBQ Pits! After Chris left Steens for Flatland America His signature pits were sadly retired and replaced to make way for the Basque Family Style Dinners!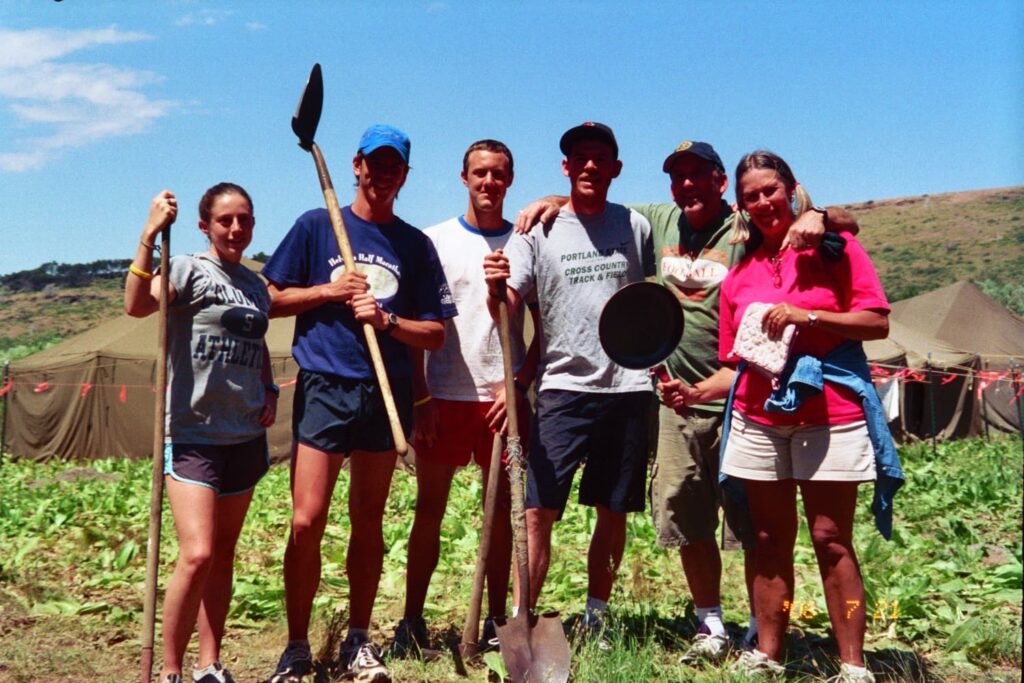 Prior to his move to Hoka Trail he was Mizuno's Running Brand Manager, later became Special Projects Manager for Atlanta Track Club Where he Managed the 2020 Olympic Marathon USA Trials, PeachTree Road race, and many other ATC and Atlanta Area events!

Congratulations Chris! Your Steens Family is Proud of the Trail you have crafted for yourself!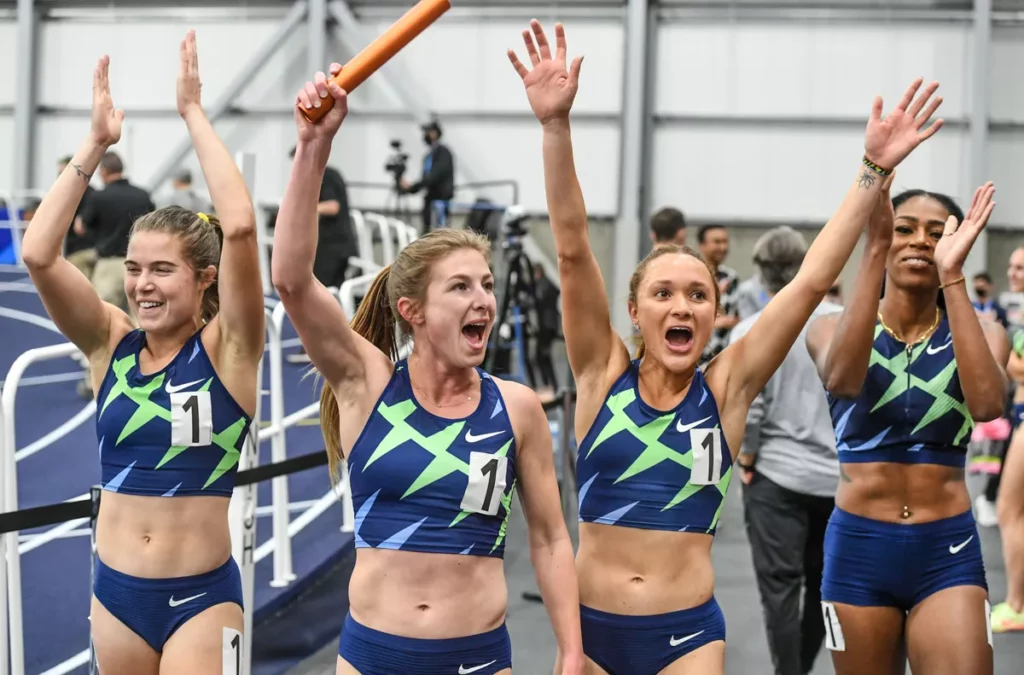 Ella Donaghu – an ex-camper, former camp assistant, and long time "Steens Warrior" – recently helped set the women's DMR world record as part of the Nike Union Athletics Club.
Together, the four ladies finished the 4,000 meter race in 10:39.91 seconds – besting the world indoor record by 0.40 seconds. Ella ran her 1200 meter leg in 3:16.02, spitting the first 800m in 2:10!
You never know where you'll end up. Staff member Cole Watson grew up specializing in the 800m and mile. Now, years later, as an adult he has progressed to 50ks, 100ks, and most recently his first 100 miler.
Cole placed 3rd in the Javelina Jundred 100 MILER in Phoenix, AZ with a time of 13 hours and 43 minutes (13:49:33)
Nice work Cole! Not bad for a mid-distance guy 😉
Wowsers!  What a 2021 State XC Meet(S) for Campers, Coaches, Parents and Aficionados! 
187 Steens Campers qualified and raced in their respective State XC Meets.
146 campers from Oregon, 16 from Idaho, 11-Alaska, 9-Washington, 3-Wyoming, 1-Connecticut and 1-S. Carolina. California not included as State Meet is held November 27th.
Broken down their race efforts finished like this:
44 — TOP 10 PODIUM FINISHERS:
3 — STATE CHAMPIONS– Allie Bruce-Boise (ID), Zac Knapp-Enterprise and James Crabtree-Sherwood.
7 — SILVER MEDALISTS–Samantha Smith- Boise (ID), Megan Cover-Catlin Gabel, Isaiah Rodriguez- Knappa, Wyatt Montgomery-LaPine, Sofia Stubblefield-Phoenix, Anna Prussian-Sitka (AK) and Chad Hughes-Siuslaw.
4 — BRONZE MEDALISTS—Grace Yaconelli-Ashland, Wesley Shipsey-C. Catholic, Trevor Nichols-Heppner and Kyla Potratz-Phoenix.
5 — 4th PLACE MEDALISTS—Henry Coughlin-Crescent Valley, Elwood Hosking-Phoenix, Caleb Brown-Pine Eagle, Jordan White-Neah-Kah-Nie and Isabel Swain-N. Salem.
5 — 5th PLACE MEDALISTS—Kaden Helder-Boise (ID), Jake Sorani-Cascade Christian, Rylee Colton-Siuslaw, Taylor Fox- Union/Cove and Caleb Lakeman-Tualatin.
4 — 6th PLACE MEDALISTS—Nathan Stein-Ashland, Ansen Converse-Bandon, Benjamin Bourne-Santiam Christian and Sadie Gump-Vernonia.
7 — 7th PLACE MEDALISTS—Logan Smith-Boise (ID), Kate Middleton-Corvallis, Kendall York-Lincoln, Aiden Smith-Lincoln, Silas Demert-Sitka (AK), Kyle Hughes-Siuslaw and Alex McIntyre-Weston McEwen.
3 — 8th PLACE MEDALISTS—Emma Lutz-Blanchet Catholic, Bayden Menton-Enterprise, and Michael Maiorano-S. Medford.
4 — 9th PLACE MEDALISTS—Holly Hutton-Bandon, Annika Zuschlag-Boise (ID) and Masson Shaw-Burns and Barrett Justema- Summit.
2 — 10th PLACE MEDALISTS—Jeffery Rogers-Sherwood and Eli Williams-Union/Cove
31 — 11th through 21st PLACINGS!
Campers listed above, other Steens tentmates and in some cases non campers (not yet anyway 😉) combined to bring home: 15 STATE TROPHIES!
STATE CHAMPS—BANDON GIRLS, BOISE GIRLS, CHUGIAK (AK) GIRLS, ENTERPRISE BOYS, SIUSLAW BOYS/GIRLS, SUMMIT GIRLS and UNION/COVE BOYS.
STATE 2nd PLACE—BANDON BOYS, CENTRAL CATHOLIC BOYS and SITKA (AK) BOYS.
STATE 3rd PLACE—BOISE BOYS, LINCOLN GIRLS and BOYS, S. ALBANY BOYS and UNION/COVE GIRLS.
STATE 4th PLACE—ZERO. NADA.
JUST MISSED– 5th PLACE—IDA B. WELLS GIRLS, HOMER (AK) BOYS, SANTIAM CHRISTIAN BOYS and SHERWOOD BOYS.
NOTABLE: S. Albany Boys 3rd Place highest ever! Siuslaw Girls under the radar-but not under the weather. A surprise win to all except the Lady Viks and their Coach. Gotta love your 6th girl's 48th place if you are a Tiger from Bandon!
The "Oh Crap, it's Over Moment" when Sherwood's James Crabtree (who had led from the gun) got caught by C. Catholics (and fellow Steens Camper) Wesley Shipsey and Franklins Charlie North with less than 400 meters to go. James found "a raging Steens Bull" caught another gear and WON in the days best time of 15:04.5!
The State Meets Biggest Smiles Awards go to:
1st place- Sherwood's Coach John Mantalas whose thoughts went from "OH CRAP to OH HAPPY DAY"
 2nd— Sherwood's James Crabtree!
3rd—Small Schools Big Dreams Author and former Steens Camper David Ribich after Enterprises Zac Knapp won 3A Title 
4th– Union/Coves Steve Sheehy—This Coach holds the "Perma-Grin" State Meet Record!
WELL DONE STEENS CAMPERS, COACHES AND MENTORS! CONGRATULATIONS YOU ARE THE VERY BEST!
And to think, we have TRACK AND FIELD to look forward to. We at Steens can Hardly Wait!
Camp staff members Max, Sam, and Jackson (all Steens ex-campers) raced the USA Trail Marathon Championships a few days ago and placed 2nd, 2nd, and 6th, respectively. Nice work you three!
One hundred fifty four Steens Campers have earned the right to race at Lane CC in Eugene, Oregon and Sun Willows in Pasco, Washington this Saturday November 6th.
Steens Campers combined to win 18 Individual League/Conference/District Titles. They represented schools who won 21 Team Titles.
Further analysis reveals 65 camper girls representing 26 schools and 89 camper boys from 36 schools will be in the hunt for Team and Individual awards.
The predicted race time weather conditions WILL FAVOR Steens Campers racing in Oregon.. Rainy, (80 % chance) the course a bit sloppy, some mud and a race day high of 48 degrees or lower, should bring confident smiles especially if it gets a bit windy!
Washington Campers will just have to wish for such luck… Predicted to be Cloudy and 55 on a golf course!
A Big Steens Congrats to ALL Campers BEFORE, DURING and AFTER your races on Saturday!
Boise Girls Win Idaho State 5A XC CHAMPIONSHIPS–27 POINTS! 
Sophomores, Allie Bruce and Samantha Smith finished 1-2 while teammates Logan Smith (7th), Annika Zuschlag (9th), Lydia Nance (11th) and the Braves 6th Girl Jamie Hamlin ran 18:48 to finish 12th.
The Boise girls are currently ranked #1 in the Hoka Postal Nationals 2 mile with an 11 minute Average.
Training as Steens Campers this past summer the Idahoans finished 1-2-3-5-7-9-14 in the STEENS UPHILL 5K RACE!
They also added a Cross Canyon Race in their win column and were the STEENS OLYMPIC Backpack Champions!
Way TO GO TENT 8!
Michael T. Smith was inducted to the North Salem High School Hallf of Fame last Friday.
Congratulations MT from all of your Steens Family!