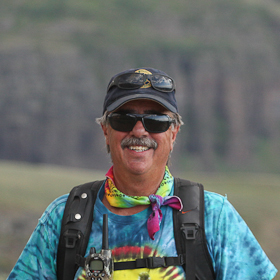 Ron Smith
Camp Director
First year at Steens: 1990s
Hometown: Klamath Falls, Oregon
Born: Medford, OR
Education:
Southern Oregon University
Masters of Science – Physical Education and Health
Career/Professional/Coaching Highlights/Achievements:
Married to Carma Smith, my biggest supporter and the ROCK of the family that has given me the best advice and allowed me to spend the time to accomplish everything below.
Currently assisting his son, Brad, at Henley and is supervisor of Klamath County's. Elementary Physical Education program.
Coaching and Teaching at Henley High School since 1981.
NFHS 2009 National Coach of the Year – Girl's Track and Field.
14 State Team Titles.
10 Runner-Up finishes at State Meet.
66 District Titles.
Coached 57 Individual and Relay State Champions.
Coached teams that hold All-Time 4A Girl's Track & Field scoring record of 98.5 points and Girl's Cross Country scoring record of 24 points at State Championship Meet.
Why Ron continues to return to Steens Mountain Running Camp each summer:
To be involved in a great camp, with outstanding coaches and a staff that teaches young people that winning and competing go together with being a good person, to accept responsibility for your actions, to understand that you are in charge of what you want to be, and that adversity forges your backbone.
Not everyone can be first, but everyone can work hard to be the best they can be. You never have to hang your head when you know you did everything possible, whether you are first or 81st.
More about Ron Smith:
Coaches/Athletes Reflect on Ron Smith's Coaching Career