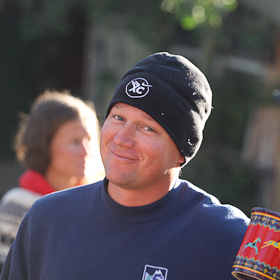 Travis Floeck
Camp Olympics
Hometown: Canyonville, Oregon
Education:
B.S. Communication/Journalism
Southern Oregon University
USATF Level One Certified Coach
Number of Summers at Steens Mountain Running Camp: 18
Career/Professional/Coaching Highlights/Achievements:
Currently the Head Cross Country/Assistant Track & Field Coach at the University of Idaho. Coached Senior Alycia Butterworth to NCAA Finals berth in the 3000m steeplechase and All-American status in first year.
Assistant Track & Field/Cross Country Coach at Oregon State University 2010-2014.
Helped the continued development of the program at OSU. Helped a fundraising campaign to build the Whyte Track & Field Center and the development of the track & field events to build a comprehensive program. Assisted in coaching three-time All-American Laura Carlyle to three school records.
Head Cross Country/Assistant Track & Field Coach at Lane Community College 2007-2009.
Coached 18 distance Junior College All-Americans, two USATF junior national qualifiers, and an NWAACC Champion in the 1500m while at Lane.
Voted NWAACC Southern Region Cross Country Coach of the Year in 2008. Other coaching stints include Southern Oregon University in 2006 and Siuslaw HS in 2010.
Has also worked in other avenues of the sport including driving the Nike XC Truck for two cross county seasons (2005, 2006) and as one of the original employees of Runnerspace.com.
Athletic Highlights/Achievements:
Two-time National Qualifier at Southern Oregon University in 800m.
Member of Four Conference Champion teams, including the 2005 track & field team that finished sixth at nationals and the 2004 conference and regional champion cross country team that finished 12th at Nationals.
2000 Oregon 3A State Champion and school record holder in 800m while at South Umpqua HS.

Why Travis continues to return to Steens Mountain Running Camp each summer:
Since I've been attending Steens every summer since I was 15, it is really one of the places I've grown up. Harland has been one of the most influential people in my life. His guidance, along with other mentors I have on the mountain like Ron Smith, have taught me so much, allowing me to have an amazing opportunity to pursue my dream of coaching in college.
It is the fact, that without Steens, I wouldn't be the person I am today, that inspires me to continue to attend each summer in hopes that I can contribute to providing the same type of experience for the campers that attend every summer. There is no doubt that Steens goes far beyond making each camper a better runner, but can make them a better person and provide lessons for the rest of their lives.