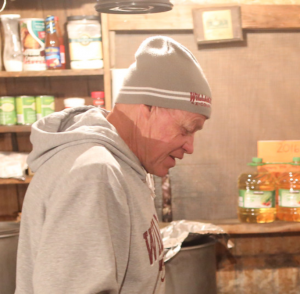 Doug Pierce
"5th, 6th, 7th man"
aka "Diamond Doug" – Flapjack Flipper par excellente
First year at Steens: 1981
Current Location: Salem, OR
Occupation: Assistant TF coach at Willamette University
High School:Reedsport HS, OR
College: University of Idaho, Boise State, Western Oregon College
Degree: B.S. in Music Ed. Masters in Music

Career/Professional/Coaching Highlights: 2008 State Champions, boys track and field-Moscow High School; ran state renowned band and chorus programs for over 15 years at Reedsport (OR) Elementary, Jr High and HS; plays multiple instruments.